Mercenary Mischief, A Deadly Game (June 2023)
Risk Commentary
Mercenary Mischief, A Deadly Game (June 2023)
Did you Know? 25 of the top 25 life insurance companies hold long-term bonds that have solicited ratings by Egan-Jones? [1] [2]
RECENT DEVELOPMENT: Potential Off-ramp
As of early afternoon, in a reported audio message, Prigozhin, head of the Wagner Group, stated "To avoid bloodshed we are returning our convoys to bases." [1]
Though potentially inaccurate, supporting the validity of this claim, the Belarusian press service issued a press statement that seems positive, if confirmed.
This morning, Russian President Vladimir Putin briefed his Belarusian counterpart on the situation in southern Russia with the private military company Wagner. The heads of state agreed on joint actions. In further development of the agreements, the President of Belarus, having additionally specified the situation through his own channels, in agreement with the President of Russia, held talks with the head of Wagner PMC Yevgeny Prigozhin. Negotiations continued throughout the day. As a result, they came to agreements on the inadmissibility of unleashing a bloody massacre on the territory of Russia. Yevgeny Prigozhin accepted the proposal of President of Belarus Alexander Lukashenko to stop the movement of armed persons of the Wagner company in Russia and take further steps to de-escalate tensions. At the moment, on the table is an absolutely profitable and acceptable option for solving the situation, with security guarantees for the Wagner PMC fighters. As previously reported, also today the President of Belarus held two meetings with the power bloc of the country on this situation.
Overview

Rarely do events cascade into a civil war, which is exactly what we are witnessing currently in Russia. Head of the Wagner Group has turned against Russia's military leaders and is marching/driving on Moscow reportedly with his 25K troops. Given the 800 kilometer distance and the barriers which have been erected, it is likely to take at least a day for the Wagner Group to reach Moscow, but events might move fairly quickly. There are a variety of items to analyze and outcomes to review. We try to cover them below, but regardless, this has the makings of a material historic event. (The situation seem to be lifted from a Tom Clancy novel.)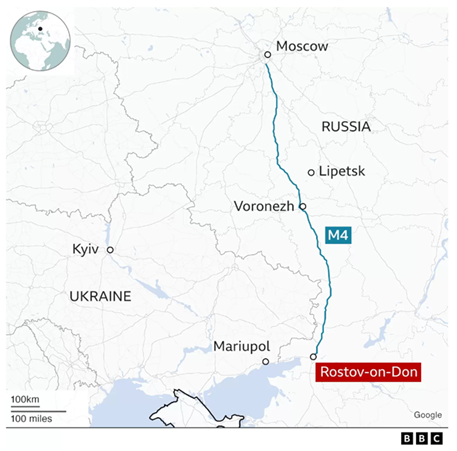 Current Status – the reality is that few outside of Russia and many within Russia have a good fix on the current status. According to the latest reports, Prigozhin has seized Rostov on Don, a key control point for Logistics and a major military base outside Moscow and is in Voronezh (half-way to Moscow).
 
High Stakes – there is no turning back for Prigozhin and those close to him probably realize it is basically a winner take all situation. If Prigozhin is stopped, he is highly likely to be killed either immediately or shortly thereafter for he has materially threaten the "crown".
 
Key Targets
There are a number of key targets Prigozhin must seize or neutralize if he is to be successful.  Listed below are the primary ones:
 
Air Force Bases – While Prigozhin is outside of Moscow and stretched out on the roadways, his troops are particularly vulnerable to bombing and strafing by aircraft. Presumably Prigozhin has Stinger-type missiles, but these might be ineffective from high altitude bombing. Once Pregossioan either seizes some aircraft support or is in Moscow, this vulnerability will wane.
 
Road Blocks – Supposedly the Russian Army has erected barriers on the road to Moscow and torn up the roadway. These barriers are unlikely to be a major obstacle, but might slow Progossian's advance.
 
Army Bases – Prigozhin's acquisition of additional army bases will complicate matters for the Russian state and if sufficient numbers are gained, Prigozhin wins. Note, in the case of Stalin's death, it was the control of the army by Khrushcev which solidified his support as Stalin's successor.
 
Logistics – Maintaining support for a force of 25K soldiers is a major logistical undertaking and without food, fuel, and ammunition, Prigozhin's efforts collapse.
 
Media – In any coup, control of the media is critical, since it is the tool to sway the masses. It appears that Russia is already losing some control. An example is disagreement between official Russian sources and media sources about Putin's whereabouts.
 
Nuclear Weapons – The weapons are typically the trump card in any conflict, provided they can be used against an isolated enemy. Two problems: one is whether the Wagner Group and their allies are sufficiently isolated to target them (once in Moscow, the targeting becomes more problematic), and two the after-effects of using nuclear weapons on one's own soil (that is Putin might squander popular support).
 
Ukraine – The current situation is a gift to Ukraine as Russian troops and the Wagner Group are likely to pull back, and supplies to troops in Ukraine is likely to decrease.
 
Putin – while Prigozhin has targeted the Russian Army leaders, it is highly unlikely that he will stop there as he needs full control to protect himself. Hence, Putin is accurately viewing events as a threat to himself and will do everything possible to stop Prigozhin.
Scenarios and Probabilities
Now for the hard part of ascertaining scenarios and probabilities. Reader indulgence is requested as events are moving quickly, information accuracy is less than ideal, and dramatic turns are possible (we will attempt to provide updates over time)
 
Wagner is Stopped (35% likely) – this is the ideal scenario from Russia's and Putin's perspective but presumably a seasoned warrior such as Prigozhin would have considered most of the possibilities before advancing. Even if this happens, Ukraine's counter-attack benefits from the distraction. To paraphrase Machiavelli, regime changes are very difficult.
 
Army Chiefs Step Down (35% likely) – Putin might consider dismissing the current leaders of the army (Russian Defense Minister Sergei Shoigu and Armed Forces Chief of Staff Valery Gerasimov) as a means to appease Prigozhin. However, he is unlikely to do so if he is not confident of the full support of their replacements. Furthermore, such a move is unlikely to satisfy Prigozhin.
 
Putin "Abdicates" (15%) – if the Wagner Group seizes key assets and Putin's probabilities of success decline, he might flee in a manner similar to many country leaders. Also, it is highly likely that he has substantial assets abroad to ease any retirement.
 
Putin Secures Help from Allies (8%) – it is possible that Putin appeals to Iran, China, and North Korea to provide troops and weapons to assist in defeating Prigozhin. Those countries have the capability but might be reluctant to choose sides. Erdogan of Turkey has already expressed his support of Putin, but it's unclear what form this takes other than rhetoric.
____________________________________________
[1] Data Source: https://twitter.com/WarMonitors/status/1672657964476387329
How we can help
Founded in 1995, Egan-Jones is a Nationally Recognized Statistical Rating Organization (NRSRO) and is recognized by the NAIC and is certified by ESMA. We can help in the following areas:
Requested Ratings – we assist investors access private and public markets via ratings.
Subscription Ratings – we provide early, accurate, and independent credit rating research.
Independent Proxy Research and Recommendation/Voting – we assist fiduciaries fulfill their voting and record-keeping obligations.
Egan-Jones rates a wide variety of private placements:
Aircraft Lease and Loans
Airline Lease Back
Asset-backed loans
Bank, BDCs
Credit Facility/ Warehouses
Corporates
Credit-Tenant Loans (CTLs)
Equipment Leases
Financial Institutions
Ground Leases
Insurance
Middle Market Lending
Project Finance
Real Estate, REITs
Specialty Finance
CRE Loans, Other
Funds:
Closed-end Funds
Credit Funds
CRE Funds
Direct Lending Funds
Feeder Funds
Infrastructure Funds
Liquidity Funds
Mezzanine Funds
Mixed Strategy Funds
Opportunistic Funds
Real Estate Funds
Structured Debt Funds
Click here to view sample Private Placement transactions.
This content is produced by individuals who are not part of the credit ratings team and do not have responsibilities for determining credit ratings or developing/approving methodologies, models or procedures that are used to determine credit ratings. The views expressed in this article might not parallel the views of the credit ratings team. The information in this report is based on current publicly available information that Egan-Jones Ratings Company ("Egan-Jones") considers reliable, but we do not represent it is accurate or complete, and it should not be relied on as such. The information, opinions, estimates and forecasts contained herein are as of the date hereof and are subject to change without prior notification. Any credit ratings issued by Egan-Jones represent Egan-Jones Rating's current opinion of the credit risk of the instrument or entity rated. Any such credit ratings do not address other factors or risks such as market volatility, market risk or liquidity risk. Prospective clients should refer to Egan-Jones Rating's published statements as to the meaning of different credit ratings assigned by Egan-Jones. Credit ratings provided by Egan-Jones are solely intended to be used by institutional investors. Egan-Jones does not assess or address the suitability of any investment for any client or any other person or the marketability of any security or instrument. Any credit rating issued by Egan-Jones is not, and should not be construed as, a recommendation to buy, sell or hold any security or instrument or undertake any investment strategy and EJR does not act as a fiduciary for any person. Egan-Jones may raise, lower, suspend, withdraw or otherwise modify a credit rating at any time in its sole discretion. EGAN-JONES IS NOT LICENSED AS A NATIONALLY-RECOGNIZED STATISTICAL RATING ORGANIZATION ("NRSRO") IN RESPECT OF "ASSET-BACKED SECURITIES", "GOVERNMENT SECURITIES", "MUNICIPAL SECURITIES" OR SECURITIES ISSED BY A FOREIGN GOVERNMENT (ALL AS DEFINED IN THE FEDERAL SECURITIES LAWS AND, COLLECTIVELY, THE "EXCLUDED SECURITIES CATEGORIES") AND ANY RATING ISSUED BY EGAN-JONES IN RESPECT OF ANY SECURITIES FALLING WITHIN AN EXCLUDED SECURITIES CATEGORY IS NOT ISSUED BY EGAN-JONES IN ITS CAPACITY AS AN NRSRO. Egan-Jones is not responsible for the content or operation of third-party websites accessed through hypertext or other computer links, cannot guarantee the accuracy of any information provided on an external website and shall have no liability to any person or entity for the use of, or the accuracy, legality or content of, such third party websites. The views attributed to any third party, including any article accessed via computer links, do not necessarily reflect those of, and are not an official view or endorsement of, Egan-Jones. This publication may not be reproduced, retransmitted or distributed in any form without the prior written consent of Egan-Jones. © 2023, Egan-Jones Ratings Company. All rights reserved.