Our Credit Ratings and Research Services
Egan-Jones' reports analyze an issuer's historic, current, and projected financial ratios. They provide comparisons of financials with aggregated ratios sorted by agency rating for industry group as well as qualitative information of the issuer's credit risk and outlook at the beginning of each report.
Egan-Jones' RCA numerically ranks issuers by trend in credit quality each month using their quantitative credit momentum model with focus a on financial ratios, earnings, earnings surprise, and equity cushion.
The disparity analysis highlights Egan-Jones' rating in comparison to other NRSRO's.
Egan-Jones' monthly reports discuss changes in credit quality by industry, including comments on the best and worst places within each industry based on expectations and emerging trends.
Non-NRSRO Reports includes Egan-Jones' Non-NRSRO coverage of sovereign debt and asset backed securities.
Egan-Jones has the ability to deliver information via FTP. Egan-Jones offer several data feed packages. The data feeds are text files containing the same data that is being displayed on our website. This includes Information such as CUSIP, Ticker, Company Name and Rating.
CUSIP ratings is a list of EJR's ratings on approximately 21,000 CUSIPs.
Egan-Jones' Pearls and Pebbles provide a quick and quantitative attempt to identify potentially mispriced securities that utilizes Egan-Jones' ratings and incorporates our proprietary unique peer group benchmarking to measure SPOB.
Commercial Paper displays Egan-Jones' rating of a company's commercial paper vs. its outstanding debt.
A Portfolio Manager is a convenience feature to follow certain companies.
Egan-Jones' accuracy has been proven by our record of Hits and Misses [1]. Over time, major NRSROs' ratings have converged upon ours, displayed below as a hit.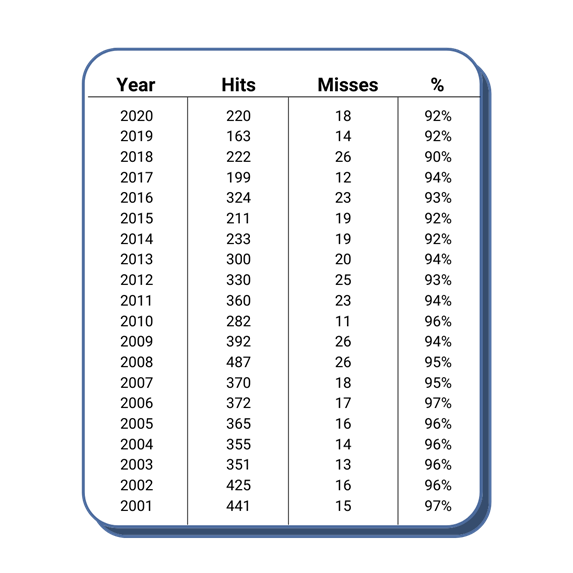 The "Hits and Misses" aims to measure the extent to which the major rating firms converge toward our rating. For example, if we rate an issuer "BB" and another rater moves from "BBB" to "BBB-", such an action would be considered a "hit". If the rater withdraws a rating, then such action would be neither a "hit" nor "miss". Additionally, if we rate an issuer at a different level than the other raters and warn that they might take a divergent action and subsequently take a divergent action, then such is not counted as a "miss".