Waiting for Godot (July 2023)
Risk Commentary
Waiting for Godot (July 2023)
Samuel Beckett's masterpiece was voted the "most significant English-language play of the 20th century" in a poll conducted by the British Royal National Theatre in 1998/99.[1] In the play, Vladimir and Estragon are waiting for Godot, and continue to do so for the balance of the play. In the end, Godot never appears, and the audience is left bewildered. Perhaps there is a parallel with the current economic conditions whereby for the past several years, many have been waiting for the recession (and for the more pessimistic, another depression), but to date none has arrived and perhaps might still be relegated to sometime in the future.
The latest inflation data provides solace to those hoping for a reprieve from the relentlessly increasing Fed Funds rates.
Figure I: Annual change in consumer prices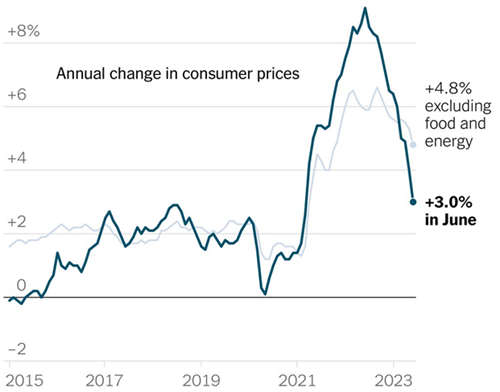 Adding solace are comments from Lloyd Blankfein who is suggesting (along with others) that a "soft landing" is becoming increasingly likely: Blankfein Says US Economic Data Show Path to Avoiding Recession, Bloomberg [2]
If the inflation indicator is accurate, and assuming 10-year Treasuries should trade at a level comparable to inflation, then we are looking at an ideal environment for fixed income corporate investors: attractive yields which are manageable for most borrowers and yet minimal defaults.
For the sceptics (i.e., in this case, those who question the government's statistics), perhaps the commodity and export/ import prices provide some comfort. As can be seen below, since last June, the index has declined from nearly $700 to less than $500.
Figure II: Bloomberg commodity spot index ($)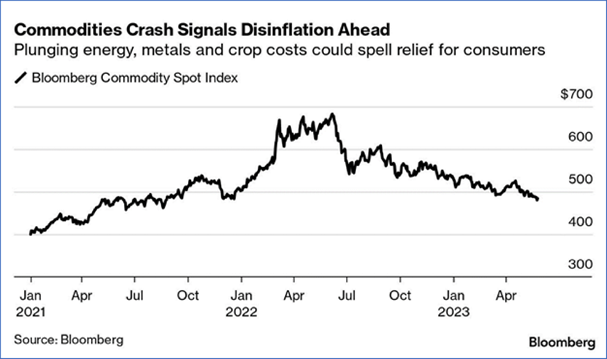 The case is even more dramatic for energy, which as can be seen below, is down from $700 a year ago to approximately $300 currently.
Figure III: Bloomberg energy commodities index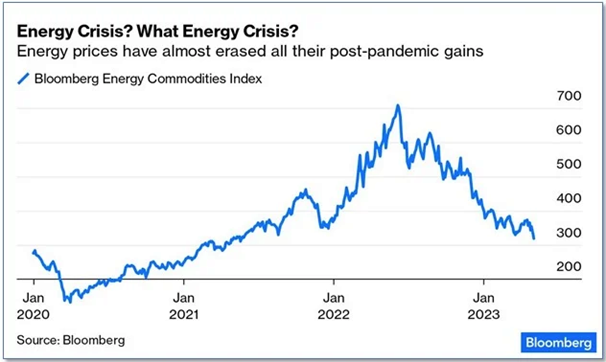 For those seeking additional conformation, we suggest St. Louis Fed's FRED and its Export/ import prices information[3][4].
Takeaway
Inflation and overall interest rates are key considerations for most sophisticated risk managers and both items appear to be moderating, leaving the path clear for producing what in retrospect might be one of the better risk-adjusted vintages for fixed income investing.
Sources
[1] "Waiting for Godot voted best modern play in English" by David Lister, The Independent, 18 October 1998
[2] https://www.bloomberg.com/news/articles/2023-06-30/blankfein...
[3] https://fred.stlouisfed.org/series/IR
[4] https://fred.stlouisfed.org/series/IQ
How we can help
Founded in 1995, Egan-Jones is a Nationally Recognized Statistical Rating Organization (NRSRO) and is recognized by the NAIC and is certified by ESMA. We can help in the following areas:
Requested Ratings– we assist investors access private and public markets via ratings.
Subscription Ratings – we provide early, accurate, and independent credit rating research.
Independent Proxy Research and Recommendation/Voting – we assist fiduciaries fulfill their voting and record-keeping obligations.
Egan-Jones rates a wide variety of private placements:
Aircraft Lease and Loans
Airline Lease Back
Asset-backed loans
Bank, BDCs
Credit Facility/ Warehouses
Corporates
Credit-Tenant Loans (CTLs)
Equipment Leases
Financial Institutions
Ground Leases
Insurance
Middle Market Lending
Project Finance
Real Estate, REITs
Specialty Finance
CRE Loans, Other
Funds:
Closed-end Funds
Credit Funds
CRE Funds
Direct Lending Funds
Feeder Funds
Infrastructure Funds
Liquidity Funds
Mezzanine Funds
Mixed Strategy Funds
Opportunistic Funds
Real Estate Funds
Structured Debt Funds
Click here to view sample Private Placement transactions.
This content is produced by individuals who are not part of the credit ratings team and do not have responsibilities for determining credit ratings or developing/approving methodologies, models or procedures that are used to determine credit ratings. The views expressed in this article might not parallel the views of the credit ratings team. The information in this report is based on current publicly available information that Egan-Jones Ratings Company ("Egan-Jones") considers reliable, but we do not represent it is accurate or complete, and it should not be relied on as such. The information, opinions, estimates and forecasts contained herein are as of the date hereof and are subject to change without prior notification. Any credit ratings issued by Egan-Jones represent Egan-Jones Rating's current opinion of the credit risk of the instrument or entity rated. Any such credit ratings do not address other factors or risks such as market volatility, market risk or liquidity risk. Prospective clients should refer to Egan-Jones Rating's published statements as to the meaning of different credit ratings assigned by Egan-Jones. Credit ratings provided by Egan-Jones are solely intended to be used by institutional investors. Egan-Jones does not assess or address the suitability of any investment for any client or any other person or the marketability of any security or instrument. Any credit rating issued by Egan-Jones is not, and should not be construed as, a recommendation to buy, sell or hold any security or instrument or undertake any investment strategy and EJR does not act as a fiduciary for any person. Egan-Jones may raise, lower, suspend, withdraw or otherwise modify a credit rating at any time in its sole discretion. EGAN-JONES IS NOT LICENSED AS A NATIONALLY-RECOGNIZED STATISTICAL RATING ORGANIZATION ("NRSRO") IN RESPECT OF "ASSET-BACKED SECURITIES", "GOVERNMENT SECURITIES", "MUNICIPAL SECURITIES" OR SECURITIES ISSED BY A FOREIGN GOVERNMENT (ALL AS DEFINED IN THE FEDERAL SECURITIES LAWS AND, COLLECTIVELY, THE "EXCLUDED SECURITIES CATEGORIES") AND ANY RATING ISSUED BY EGAN-JONES IN RESPECT OF ANY SECURITIES FALLING WITHIN AN EXCLUDED SECURITIES CATEGORY IS NOT ISSUED BY EGAN-JONES IN ITS CAPACITY AS AN NRSRO. Egan-Jones is not responsible for the content or operation of third-party websites accessed through hypertext or other computer links, cannot guarantee the accuracy of any information provided on an external website and shall have no liability to any person or entity for the use of, or the accuracy, legality or content of, such third party websites. The views attributed to any third party, including any article accessed via computer links, do not necessarily reflect those of, and are not an official view or endorsement of, Egan-Jones. This publication may not be reproduced, retransmitted or distributed in any form without the prior written consent of Egan-Jones. © 2023, Egan-Jones Ratings Company. All rights reserved.