Unintended Consequences (be careful what you wish for) (July 2022)
Risk Commentary
Unintended Consequences (be careful what you wish for)
Hubris - exaggerated pride or self-confidence. English picked up both the concept of hubris and the term for that particular brand of cockiness from the ancient Greeks, who considered hubris a dangerous character flaw capable of provoking the wrath of the gods. In classical Greek tragedy, hubris was often a fatal shortcoming that brought about the fall of the tragic hero. Typically, overconfidence led the hero to attempt to overstep the boundaries of human limitations and assume a godlike status, and the gods inevitably humbled the offender with a sharp reminder of their mortality.[1]
In our view, there have been several recent examples of hubris which have resulted in unexpected outcomes.
Putin's Great Adventure
Presumably the impetus of Putin's invasion of Ukraine was gaining control of several possible invasion routes into Russia, creating a buffer zone from NATO countries, and bringing a Western-leaning nation (i.e., Ukraine) to heel. Unfortunately, the journey is not working out as planned. For starters, Russia now has an additional 1,100 miles of hostile border, and a massive increase in opposing forces with the addition of Finland and Sweden to the NATO alliance. Currently, the military expenditures of NATO is multiples of Russia's and Russia's aggressions have united NATO to a greater extent than it has been for the past 20 years.  Lastly, many inside Russia are questioning the intelligence of the invasion with Putin's pride being the major motivator for the continuation of the effort. Even if Russia is successful in a land grab in Eastern Ukraine, the cost of holding it might outweigh any future benefit.
January 6th Committee
The presumed purpose of the January 6th Committee is to show voters that Donald Trump is a rogue (no surprise to many) and hopefully disqualify him from running in 2024. While on its face, the strategy is appealing, if the broader objective is to retain control of the White House, the Jan. 6th Committee might have handed a gift to the Republicans by clearing a path for candidates with broader appeal than Mr. Trump. There is little doubt that Mr. Trump is loved by a portion of the population, but Republicans might have a better chance of winning the presidency with a less tarnished candidate.
Leadership Vacuum
While the presidential elections are more than two years away, campaigning will begin this fall. Typically, the current president is a natural choice to run for a second term, but the weak economic conditions and the age of Mr. Biden are giving many pause. Unfortunately, there are few national figures who are logical alternatives; the usual first choice is the Vice President, Kamala Harris, but her approval level is low, and other logical candidates might have difficulty garnering broad appeal. Voters might tolerate woke policies when the economy is strong, but in the current cycle, pocketbook issues are likely to dominate.
Inflation
As of 18 months ago, central bankers and economists were praying for inflation approaching 2% with the fear being a deflationary environment would be disastrous over time. While many might debate what the real, adjusted level of inflation is, there is little doubt that it is above 2%. However, our view is that levels will temper over time, a view shared by many making forward bets as can be seen in the below chart with 5-year, 5-year Forward Breakeven near 2.1%. Likewise, traders are expecting FED cuts next year.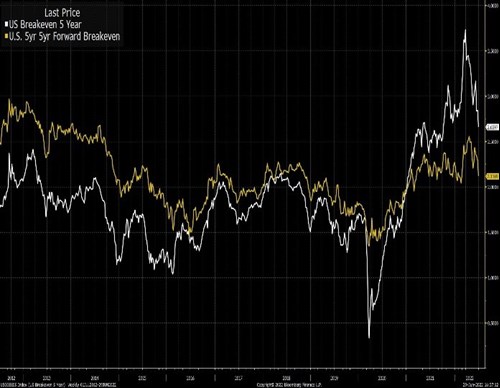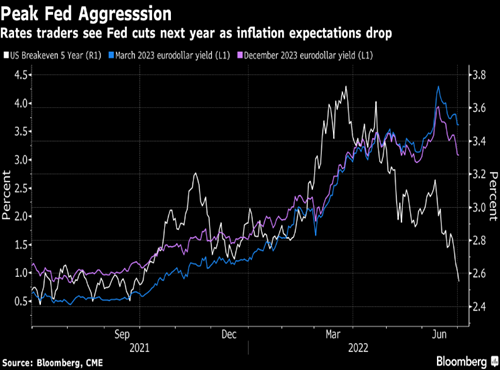 Miserable Headlines/ Goldilocks for Private Debt
The headlines are all worry for investors. However, after speaking with some of the largest global investors in private debt, it appears the structures and yields have become more attractive, while the performance of most portfolio firms has been stable. Private equity firms are investing more resulting in reduced leverage levels while the rise in interest rates has pushed yields on floating rate debt above 8%, and most firms that are not heavily dependent on food and energy and have been holding their own in terms of performance.
[1] https://www.merriam-webster.com/dictionary/hubris
How we can help
Egan-Jones Ratings Company started providing ratings in 1995 for the purpose of issuing timely, accurate ratings. EJR is a Nationally Recognized Statistical Rating Organization (NRSRO) and is recognized by the National Association of Insurance Commissioners (NAIC) as a Credit Rating Provider. EJR is certified by the European Securities and Markets Authority (ESMA) and recognized as market leader in Private Placement ratings. EJR also provides independent credit rating research, Climate Change / ESG scores, and Proxy research and recommendations.
Prospective clients have often asked how we can help them and what areas we consider are particularly
strong. In response, below are the areas worth reviewing:
Private Placement Ratings – assisting investors access private markets via ratings on private placements.
Subscription Ratings – we have had a strong track record in providing early, accurate independent credit
rating research.
Climate Change / ESG Scores – an assessment of entities' current and prospective scores.
Independent Proxy Research and Recommendation/Voting – assisting fiduciaries in fulfilling their voting and record-keeping obligations.
Egan-Jones rates a wide variety of private placements:
Aircraft Lease and Loans
Airline Lease Back
Asset-backed loans
Bank, BDCs
Credit Facility/ Warehouses
Corporates
Credit-Tenant Loans (CTLs)
Equipment Leases
Financial Institutions
Ground Leases
Insurance
Middle Market Lending
Project Finance
Real Estate, REITs
Specialty Finance
CRE Loans, Other
Funds:
Closed-end Funds
Credit Funds
CRE Funds
Direct Lending Funds
Feeder Funds
Infrastructure Funds
Liquidity Funds
Mezzanine Funds
Mixed Strategy Funds
Opportunistic Funds
Real Estate Funds
Structured Debt Funds
Click here to view sample Private Placement transactions.
This content is produced by individuals who are not part of the credit ratings team and do not have responsibilities for determining credit ratings or developing/approving methodologies, models or procedures that are used to determine credit ratings.  The views expressed herein might not parallel the views of the credit ratings team. The information in this report is based on current publicly available information that Egan-Jones Ratings Company ("EGAN-JONES") considers reliable, but we do not represent it is accurate or complete, and it should not be relied on as such. The information, opinions, estimates, and forecasts contained herein are as of the date hereof and are subject to change without prior notification. Any credit ratings issued by EGAN-JONES represent EGAN-JONES' current opinion of the credit risk of the instrument or entity rated.  Any such credit ratings do not address other factors or risks such as market volatility, market risk or liquidity risk.  Prospective clients should refer to EGAN-JONES' published statements as to the meaning of different credit ratings assigned by EGAN-JONES.  Credit ratings provided by EGAN-JONES are solely intended to be used by institutional investors.  EGAN-JONES does not assess or address the suitability of any investment for any client or any other person or the marketability of any security or instrument.  Any credit rating issued by EGAN-JONES is not, and should not be construed as, a recommendation to buy, sell or hold any security or instrument or undertake any investment strategy and EGAN-JONES does not act a fiduciary for any person.  EGAN-JONES may raise, lower, suspend, withdraw, or otherwise modify a credit rating at any time in its sole discretion. EGAN-JONES IS NOT LICENSED AS A NATIONALLY-RECOGNIZED STATISTICAL RATING ORGANIZATION ("NRSRO") IN RESPECT OF "ASSET-BACKED SECURITIES", "GOVERNMENT SECURITIES", "MUNICIPAL SECURITIES" OR SECURITIES ISSED BY A FOREIGN GOVERNMENT (ALL AS DEFINED IN THE FEDERAL SECURITIES LAWS AND, COLLECTIVELY, THE "EXCLUDED SECURITIES CATEGORIES") AND ANY RATING ISSUED BY EGAN-JONES IN RESPECT OF ANY SECURITIES FALLING WITHIN AN EXCLUDED SECURITIES CATEGORY IS NOT ISSUED BY EGAN-JONES IN ITS CAPACITY AS AN NRSRO.  EGAN-JONES is not responsible for the content or operation of third-party websites accessed through hypertext or other computer links, cannot guarantee the accuracy of any information provided on an external website and shall have no liability to any person or entity for the use of, or the accuracy, legality, or content of, such third-party websites. The views attributed to any third party, including any article accessed via computer links, do not necessarily reflect those of, and are not an official view or endorsement of, EGAN-JONES.  This publication may not be reproduced, retransmitted, or distributed in any form without the prior written consent of EGAN-JONES. © 2022, Egan-Jones Ratings Company. All rights reserved.