The Sound and the Fury (June 2023)
Risk Commentary
The Sound and the Fury (June 2023)
Did you Know? 47 of the top 50 life insurance companies hold long-term bonds that have solicited ratings by Egan-Jones? [1] [2]
Mercenary Mischief: A Deadly Game - update

It has been confirmed that the Wagner Group has reversed its drive toward Moscow and is returning to its bases. While it is difficult to predict next steps, a reasonable assumption might be that Putin's safety (and retention of power) has become more of an immediate concern than gains in Ukraine. The Wagner Group has apparently lost its charismatic leader, Prigozhin, whose life may now be in danger.
Many might question the basis for Prigozhin's sudden reversal and speculate he is vulnerable without his mercenary troops. Even the motivation for the coup is in question - Prigozhin claims to have been motivated by the Russian military's failure to deliver supplies and support, its friendly-fire attack on a Wagner base, and its attempt to integrate Wagner forces. Additionally, Putin had indicated support of many of Wagner's military efforts. Regardless, it seems the winner from the truncated coup attempt is Ukraine.
The Sound and the Fury

We are rapidly approaching the 2024 election cycle whereby billions of dollars and countless hours will be spent on determining the best candidate to lead the country for the next four years. Despite the "Sound" and in many cases the "Fury", our view is that the outcome has probably already been established. As we mention regarding our credit analysts, "check your politics, and religion (and without saying, guns) at the door; simply try to generate the most accurate analysis." In that light, it appears that Mr. Biden is the likely Democratic candidate. While many right-of-center voters are watching news on allegations of Mr. Biden's involvement in foreign payments, if the DOJ and FBI do not actively pursue the allegations, nothing much will happen. Furthermore, time is rapidly running out for any tangible action as there is typically a quiet period of 12 months prior to elections. Certainly, the House can vote for impeachment, but history has shown that such efforts are counterproductive.
On the Republican side, despite the early efforts of Mr. DeSantis to garner support, such efforts have fallen short. Assuming Mr. Trump garners the nomination, the issue in the general election will turn on the independent voter. In the midterms, the catalyzing issue was the repeal of Roe vs. Wade. Our sense is that the issue continues to have legs, particularly for suburban female voters. Yes, there are likely to be numerous secondary and tertiary issues, including Mr. Biden's age and health, but the recent election of Senator Fetterman of Pennsylvania suggests that party affiliation can be more relevant than a candidate's health.
To reinforce the afore-mentioned views, below are index results for the various candidates indicating that Mr. Biden is the leading candidate.
Figure I: Presidential Election Odds 2024 (June 25) [3]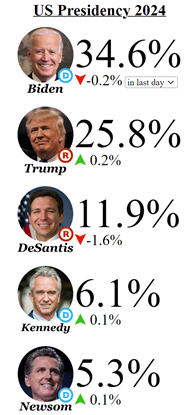 Some might argue that the election system is broken by pointing to the flaws in the two leading candidates. Our view is that while those opinions might be valid, they do not change the current conditions. If Mr. Biden is re-elected, it is highly likely that the bulk of the current policies remain in place even if Ms. Harris steps in prior to 2028. Bear in mind a lot can happen in the next 18 months, and therefore vigilance is warranted. Perhaps the one caveat to watch for is well-broadcasted event indicating Mr. Biden's health has materially deteriorated or if Mr. Trump decides to bow out or is hobbled. Regardless, we will be watching. (Proper deference to William Faulkner regarding the title of this latest installment.)
Inflation Deflation

As if on cue (see our prior reports), inflation has eased from more than 8% to merely 4% per a recent WSJ story (see the below graph) [4]. The decline has eased pressure on the FED's inflation-fighting efforts and might over time result in some easing of rates.

Figure II: Consumer-price Index (%)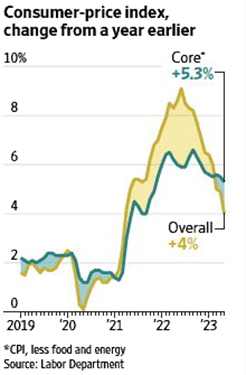 In response to the easing of inflation, both the 2-year and 10-year have been moderating over the past couple of months, and the trend is likely to persist if recent progress continues.

Figure III: Market Yield on US Treasury Securities at 10-Year & 2-Year Constant Maturity

Interestingly, the Central Bank of China has been cutting rates in an effort to stimulate their weakened economy [5].
____________________________________________
[1] Data Source: National Association of Insurance Commissioners, by permission. The NAIC does not endorse any analysis or conclusions based upon the use of its data. Market share determined by direct written premiums.
[2] The analysis of the NAIC data by Egan-Jones has been validated by RiskSpan, Inc.
[3] Electionbettingodds.com
[4] WSJ, June 14, 2023
[5]https://www.reuters.com/markets/asia/chinas-central-bank-cuts-short-term-borrowing-cost-first-time-since-aug-2023-06-13/
How we can help
Founded in 1995, Egan-Jones is a Nationally Recognized Statistical Rating Organization (NRSRO) and is recognized by the NAIC and is certified by ESMA. We can help in the following areas:
Requested Ratings – we assist investors access private and public markets via ratings.
Subscription Ratings – we provide early, accurate, and independent credit rating research.
Independent Proxy Research and Recommendation/Voting – we assist fiduciaries fulfill their voting and record-keeping obligations.
Egan-Jones rates a wide variety of private placements:
Aircraft Lease and Loans
Airline Lease Back
Asset-backed loans
Bank, BDCs
Credit Facility/ Warehouses
Corporates
Credit-Tenant Loans (CTLs)
Equipment Leases
Financial Institutions
Ground Leases
Insurance
Middle Market Lending
Project Finance
Real Estate, REITs
Specialty Finance
CRE Loans, Other
Funds:
Closed-end Funds
Credit Funds
CRE Funds
Direct Lending Funds
Feeder Funds
Infrastructure Funds
Liquidity Funds
Mezzanine Funds
Mixed Strategy Funds
Opportunistic Funds
Real Estate Funds
Structured Debt Funds
Click here to view sample Private Placement transactions.
This content is produced by individuals who are not part of the credit ratings team and do not have responsibilities for determining credit ratings or developing/approving methodologies, models or procedures that are used to determine credit ratings. The views expressed in this article might not parallel the views of the credit ratings team. The information in this report is based on current publicly available information that Egan-Jones Ratings Company ("Egan-Jones") considers reliable, but we do not represent it is accurate or complete, and it should not be relied on as such. The information, opinions, estimates and forecasts contained herein are as of the date hereof and are subject to change without prior notification. Any credit ratings issued by Egan-Jones represent Egan-Jones Rating's current opinion of the credit risk of the instrument or entity rated. Any such credit ratings do not address other factors or risks such as market volatility, market risk or liquidity risk. Prospective clients should refer to Egan-Jones Rating's published statements as to the meaning of different credit ratings assigned by Egan-Jones. Credit ratings provided by Egan-Jones are solely intended to be used by institutional investors. Egan-Jones does not assess or address the suitability of any investment for any client or any other person or the marketability of any security or instrument. Any credit rating issued by Egan-Jones is not, and should not be construed as, a recommendation to buy, sell or hold any security or instrument or undertake any investment strategy and EJR does not act as a fiduciary for any person. Egan-Jones may raise, lower, suspend, withdraw or otherwise modify a credit rating at any time in its sole discretion. EGAN-JONES IS NOT LICENSED AS A NATIONALLY-RECOGNIZED STATISTICAL RATING ORGANIZATION ("NRSRO") IN RESPECT OF "ASSET-BACKED SECURITIES", "GOVERNMENT SECURITIES", "MUNICIPAL SECURITIES" OR SECURITIES ISSED BY A FOREIGN GOVERNMENT (ALL AS DEFINED IN THE FEDERAL SECURITIES LAWS AND, COLLECTIVELY, THE "EXCLUDED SECURITIES CATEGORIES") AND ANY RATING ISSUED BY EGAN-JONES IN RESPECT OF ANY SECURITIES FALLING WITHIN AN EXCLUDED SECURITIES CATEGORY IS NOT ISSUED BY EGAN-JONES IN ITS CAPACITY AS AN NRSRO. Egan-Jones is not responsible for the content or operation of third-party websites accessed through hypertext or other computer links, cannot guarantee the accuracy of any information provided on an external website and shall have no liability to any person or entity for the use of, or the accuracy, legality or content of, such third party websites. The views attributed to any third party, including any article accessed via computer links, do not necessarily reflect those of, and are not an official view or endorsement of, Egan-Jones. This publication may not be reproduced, retransmitted or distributed in any form without the prior written consent of Egan-Jones. © 2023, Egan-Jones Ratings Company. All rights reserved.