The Mafia and Mattresses; The Basis for Heightened Conflict  (Aug 2022)
Risk Commentary
The Mafia and Mattresses; The Basis for Heightened Conflict
The Mafia has a term for warring between different families and that is "Going to the Mattresses", presumably because when battle is underway, the soldiers might be needed at any time and therefore place on hold their normal family lives. The root cause of the war is typically an attempt for one gang to enhance its activities at the expense of another. Domestically, there appears to be little in the form of mafia violence with most remembering it via Mario Puzo's masterpiece "The Godfather". While the film is great entertainment, an obvious message to the audience is that wars have massive costs and uncertain outcomes. Perhaps there is a corollary in the investment climate today.
Europe
Countless billions have been spent in Ukraine in an effort to blunt Putin's invasion. While the drive to Kiev was broken, it is not clear that Ukraine is winning and in fact, appears to be losing with the slow, grinding gains of Russia in the East. For those who have not paid attention, the bigger loss is the fractured relationship between Western Europe and Russia. Courtesy of Angela Merkle, the arrangement was that Russia would provide energy and Western Europe cash. That partnership is asunder resulting in losses on both sides.
Table 1: Pre and Post Conflict Prices & Availability
| | | |
| --- | --- | --- |
|   | Pre-Conflict | Post Conflict |
| Energy Prices & Availability | Moderate | High; Availability is a Major Concern (solar and wind are insufficient & nuclear takes a decade to install) |
| Global Food | Adequate | Major Concerns |
| Fertilizer | Adequate | Major Concerns |
| Ukraine Infrastructure | Adequate | Major Concerns |
| Military Expenditures | High (Afghanistan) | High |
The problem with fractured relationships is that it is difficult to repair them. Putin has been demonized for his prior and current actions with many claiming that he should be bloodied or he will advance on other eastern European countries. While possibly true, the current situation is no doubt a mess and perhaps there was a better way.
China/ Taiwan
It is natural for humans to seek to accomplish something, and Xi Jinping appears to be set on unifying China. After absorbing Hong Kong, it appears that Taiwan is next although the obstacles are significantly greater. In terms of the Western world's response, there are two mindsets: one is to push back or Xi will continue to gain control over other territories. The other is a form of détente, whereby the U.S. remains ambiguous regarding its response. While China has been weakened by over-investment in housing and COVID shutdowns, perhaps that weakness encourages a precipitous response. While not mentioned, the mixed messages from Washington have further confused the situation.
Washington
The current administration campaigned on the message of being a great unifier with a return to normality. While such a message resonated, particularly after the chaotic years of the prior administration, it is difficult to describe the current environment as normal. In fact, the executive branch has set a blistering pace for change presumably to impress the Progressives of the party that a reset is underway. Some claim that the midterms will result in a rebalancing of Washington, but with the low relative level of funding for the Republicans, the Democrat's Senate control is likely to remain, and the House control is uncertain.
Water
The West has always been arid, but the current spat of drought, fires, and snowpack melting bring a new sense of urgency. Our view is that there will be an increase of calls over the coming years for solutions and that a massive infrastructure project will be undertaken drawing water from the Platte River and connecting it to the Colorado River.
Confused Economists
Many economists are having difficulty providing predictions because employment levels have remained high while GDP has weakened. Adding to the conundrum are the heightened levels of inflation. Our view is that global trade is resetting and that the tools and understanding will follow in time. The below chart provides some hope on the inflation front:
Figure 1: Inflation & Money Supply Growth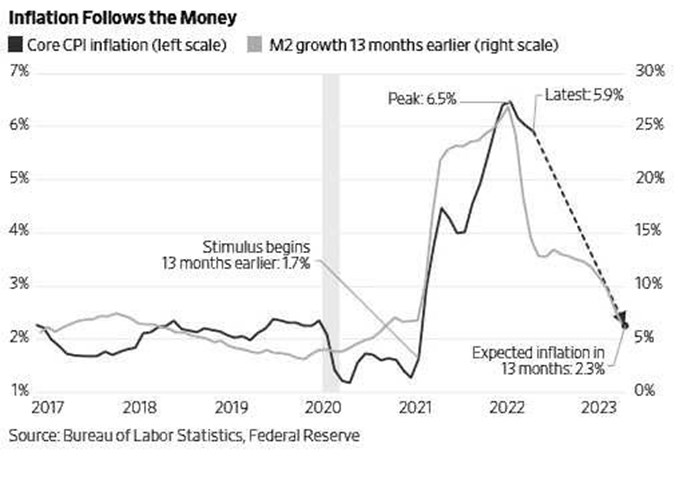 Our Prognosis
While some can bemoan the current turmoil in the global market, our view is rather optimistic. We will get through the Ukraine crisis with a negotiated peace whereby some territory is lost, but with the offset being greater protection for Ukraine and a sharing of the rebuilding costs. In the case of China and Taiwan, perhaps the view is that the saber rattling is no ones' interest and normalcy will prevail.  For Washington, perhaps the stridency and polarization will ease, and the country will become more focused on accommodation. The best investments are made during the times of greatest uncertainty (cit. Baron Rothschild's blood running in the streets)[1].  Perhaps now is one of those times.
[1] https://sg.finance.yahoo.com/news/time-buy-blood-streets-042847964.html?guccounter=1&guce_referrer=aHR0cHM6Ly93d3cuZ29vZ2xlLmNvbS8&guce_referrer_sig=AQAAAHg-Fa4k5qzHTHJ7_k4Ep2Vxj_SfNsGElyC3oZctPiPEMz1ZZE7ydXyRj0PwHi3NRxT9akbamhxhfjomWroNuKwNmeVQ_312uIzF7ef7Zfg8kcedD-fTZmzVOnnrIgBYOaKT0fQGaQrwvIqQZRaLBrKMzOrlqW3FgoiMMHjoBrou#:~:text=Baron%20Rothschild%2C%20an%2018th%2Dcentury,Battle%20of%20Waterloo%20against%20Napoleon.
---
How we can help
Egan-Jones Ratings Company started providing ratings in 1995 for the purpose of issuing timely, accurate ratings. EJR is a Nationally Recognized Statistical Rating Organization (NRSRO) and is recognized by the National Association of Insurance Commissioners (NAIC) as a Credit Rating Provider. EJR is certified by the European Securities and Markets Authority (ESMA) and recognized as market leader in Private Placement ratings. EJR also provides independent credit rating research, Climate Change / ESG scores, and Proxy research and recommendations.
Prospective clients have often asked how we can help them and what areas we consider are particularly
strong. In response, below are the areas worth reviewing:
Private Placement Ratings – assisting investors access private markets via ratings on private placements.
Subscription Ratings – we have had a strong track record in providing early, accurate independent credit
rating research.
Climate Change / ESG Scores – an assessment of entities' current and prospective scores.
Independent Proxy Research and Recommendation/Voting – assisting fiduciaries in fulfilling their voting and record-keeping obligations.
Egan-Jones rates a wide variety of private placements:
Aircraft Lease and Loans
Airline Lease Back
Asset-backed loans
Bank, BDCs
Credit Facility/ Warehouses
Corporates
Credit-Tenant Loans (CTLs)
Equipment Leases
Financial Institutions
Ground Leases
Insurance
Middle Market Lending
Project Finance
Real Estate, REITs
Specialty Finance
CRE Loans, Other
Funds:
Closed-end Funds
Credit Funds
CRE Funds
Direct Lending Funds
Feeder Funds
Infrastructure Funds
Liquidity Funds
Mezzanine Funds
Mixed Strategy Funds
Opportunistic Funds
Real Estate Funds
Structured Debt Funds
Click here to view sample Private Placement transactions.
This content is produced by individuals who are not part of the credit ratings team and do not have responsibilities for determining credit ratings or developing/approving methodologies, models or procedures that are used to determine credit ratings.  The views expressed herein might not parallel the views of the credit ratings team. The information in this report is based on current publicly available information that Egan-Jones Ratings Company ("EGAN-JONES") considers reliable, but we do not represent it is accurate or complete, and it should not be relied on as such. The information, opinions, estimates, and forecasts contained herein are as of the date hereof and are subject to change without prior notification. Any credit ratings issued by EGAN-JONES represent EGAN-JONES' current opinion of the credit risk of the instrument or entity rated.  Any such credit ratings do not address other factors or risks such as market volatility, market risk or liquidity risk.  Prospective clients should refer to EGAN-JONES' published statements as to the meaning of different credit ratings assigned by EGAN-JONES.  Credit ratings provided by EGAN-JONES are solely intended to be used by institutional investors.  EGAN-JONES does not assess or address the suitability of any investment for any client or any other person or the marketability of any security or instrument.  Any credit rating issued by EGAN-JONES is not, and should not be construed as, a recommendation to buy, sell or hold any security or instrument or undertake any investment strategy and EGAN-JONES does not act a fiduciary for any person.  EGAN-JONES may raise, lower, suspend, withdraw, or otherwise modify a credit rating at any time in its sole discretion. EGAN-JONES IS NOT LICENSED AS A NATIONALLY-RECOGNIZED STATISTICAL RATING ORGANIZATION ("NRSRO") IN RESPECT OF "ASSET-BACKED SECURITIES", "GOVERNMENT SECURITIES", "MUNICIPAL SECURITIES" OR SECURITIES ISSED BY A FOREIGN GOVERNMENT (ALL AS DEFINED IN THE FEDERAL SECURITIES LAWS AND, COLLECTIVELY, THE "EXCLUDED SECURITIES CATEGORIES") AND ANY RATING ISSUED BY EGAN-JONES IN RESPECT OF ANY SECURITIES FALLING WITHIN AN EXCLUDED SECURITIES CATEGORY IS NOT ISSUED BY EGAN-JONES IN ITS CAPACITY AS AN NRSRO.  EGAN-JONES is not responsible for the content or operation of third-party websites accessed through hypertext or other computer links, cannot guarantee the accuracy of any information provided on an external website and shall have no liability to any person or entity for the use of, or the accuracy, legality, or content of, such third-party websites. The views attributed to any third party, including any article accessed via computer links, do not necessarily reflect those of, and are not an official view or endorsement of, EGAN-JONES.  This publication may not be reproduced, retransmitted, or distributed in any form without the prior written consent of EGAN-JONES. © 2022, Egan-Jones Ratings Company. All rights reserved.