The "BIG" One (Nov. 2 2023)
I. The "BIG" One
Perhaps the most daunting risk facing all institutional investors is a massive collapse in financial markets. The below chart is troubling as the 10-year yield continues to advance despite the easing of inflation; during the Black Monday crash, the Dow lost 27% over a few days.

Figure I: 10-Year Yield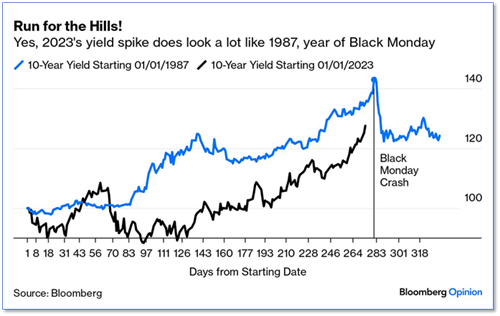 Figure II: Black Monday Dow Jones [1]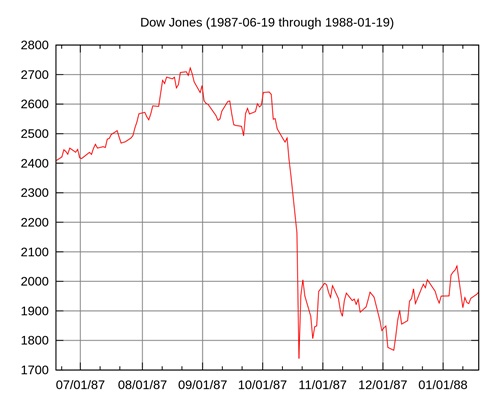 The rather regular boom/bust pattern has been the norm as can be seen below. In fact, the swings were even greater prior to the arrival of the late, great economist Maynard Keynes, who popularized Keynesian economics. The issue at hand is whether:
(i) The Fed will continue with interest rate hikes despite inflation cooling,
(ii) the 10-year will continue to rise despite inflation cooling and Fed interest rate policy, and
(iii) if the 10-year continues to rise, whether the highly indebted governments can or will help.


Figure III: U.S. GDP Growth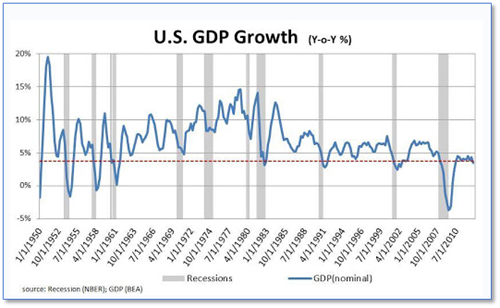 Causing angst among many investors is the rise in long-term rates (see Figure I above) despite the decline in inflation and money supply (as represented by Figure IV below).
Figure IV: Money Supply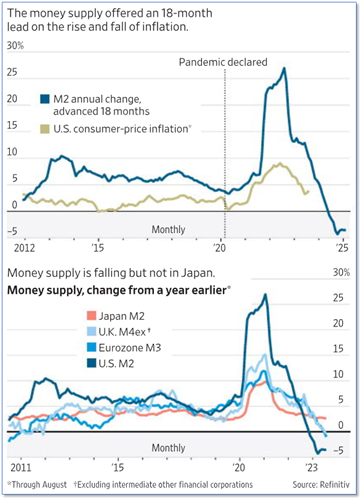 Rising 10-year yields despite M2 declines may be irregular, though perhaps it indicates the market's concern with fiscal debt. Dominant buyers of treasuries (i.e., the central banks) are liquidating holdings when supply of treasuries (i.e., treasury departments) are issuing more. The valuation of nearly all medium and long duration assets will be under increased pressure thereby feeding into a potential "Doom Loop."
We have been here before, just in a different form. As of several years ago, Italy and Spain faced high funding costs and elevated debt levels. The prevalent concern was that the countries would simply be unable to service their debt despite taxation and austerity measures. Just when it appeared they were slipping under the waves, Super Mario (i.e., Mario Draghi) announce the ECB would do whatever it took to save the countries. Shortly, thereafter, funding costs returned to prior levels and fears eased.
The issue is whether the US Treasuries will follow a similar path, and how long it might take. Adding to the concerns is the fiscal deficit, which might gap out if we were to enter a recession.


Figure V: Federal Surplus or Deficit as % of GDP

II. Washington Woes
Kevin McCarthy's ousting suggests that Washington is likely to remain polarized for the foreseeable future. His removal appears to be caused by dissatisfaction among a small faction regarding spending. Meanwhile, presidential politics are likely to get more interesting with the announcement of Robert Kennedy Junior's run as an independent. Many assume that Kennedy will hold more appeal to the Democratic base, but like Trump, he is anti-establishment and it remains to be seen how many states will place his name on the ballot. Regardless, polarization is likely to remain.
Sources & Footnotes
[1] https://en.wikipedia.org/wiki/Black_Monday_(1987)...
This content is produced by individuals who are not part of the credit ratings team and do not have responsibilities for determining credit ratings or developing/approving methodologies, models or procedures that are used to determine credit ratings. The views expressed in this article might not parallel the views of the credit ratings team. The information in this report is based on current publicly available information that Egan-Jones Ratings Company ("Egan-Jones") considers reliable, but we do not represent it is accurate or complete, and it should not be relied on as such. The information, opinions, estimates and forecasts contained herein are as of the date hereof and are subject to change without prior notification. Any credit ratings issued by Egan-Jones represent Egan-Jones Rating's current opinion of the credit risk of the instrument or entity rated. Any such credit ratings do not address other factors or risks such as market volatility, market risk or liquidity risk. Prospective clients should refer to Egan-Jones Rating's published statements as to the meaning of different credit ratings assigned by Egan-Jones. Credit ratings provided by Egan-Jones are solely intended to be used by institutional investors. Egan-Jones does not assess or address the suitability of any investment for any client or any other person or the marketability of any security or instrument. Any credit rating issued by Egan-Jones is not, and should not be construed as, a recommendation to buy, sell or hold any security or instrument or undertake any investment strategy and EJR does not act as a fiduciary for any person. Egan-Jones may raise, lower, suspend, withdraw or otherwise modify a credit rating at any time in its sole discretion. EGAN-JONES IS NOT LICENSED AS A NATIONALLY-RECOGNIZED STATISTICAL RATING ORGANIZATION ("NRSRO") IN RESPECT OF "ASSET-BACKED SECURITIES", "GOVERNMENT SECURITIES", "MUNICIPAL SECURITIES" OR SECURITIES ISSED BY A FOREIGN GOVERNMENT (ALL AS DEFINED IN THE FEDERAL SECURITIES LAWS AND, COLLECTIVELY, THE "EXCLUDED SECURITIES CATEGORIES") AND ANY RATING ISSUED BY EGAN-JONES IN RESPECT OF ANY SECURITIES FALLING WITHIN AN EXCLUDED SECURITIES CATEGORY IS NOT ISSUED BY EGAN-JONES IN ITS CAPACITY AS AN NRSRO. Egan-Jones is not responsible for the content or operation of third-party websites accessed through hypertext or other computer links, cannot guarantee the accuracy of any information provided on an external website and shall have no liability to any person or entity for the use of, or the accuracy, legality or content of, such third party websites. The views attributed to any third party, including any article accessed via computer links, do not necessarily reflect those of, and are not an official view or endorsement of, Egan-Jones. This publication may not be reproduced, retransmitted or distributed in any form without the prior written consent of Egan-Jones. © 2023, Egan-Jones Ratings Company. All rights reserved.