Shifting Goal Posts, Putin Poker, and China Chaos (Dec 2022)
Risk Commentary
Shifting Goal Posts, Putin Poker, and China Chaos
The purpose of this publication is to address those items that are likely to have the greatest impact on institutional investor risk managers. Our aim is to explain underlying causes for recent developments and where possible, predict outcomes.
Shifting Goal Posts; Risk on, Risk Off
In business schools, students are typically taught about the efficient frontier, that is the benefit of diversifying and adjusting one's portfolio to achieve the maximum return with the least amount of risk. Rarely taught is the fact that frontiers or goal posts shift depending on the economic climate.
We are in such a period now with many managers attempting to "de-risk" their portfolios at perhaps the worst time. Blackstone recently received substantial redemption requests, thus necessitating a hold on redemptions. Depending on one's view of interest rates and cap rates, in retrospect, these redemption request might be viewed as ill-timed with a fitting description of selling at the bottom. This development is bound to cause major disruption for the manager and investors. While there is little that can be done now, perhaps more attention is needed from all parties to address this phenomenon of shifting views.
Interestingly, just as there is no ill wind that blows, some savvy investors have made a habit of seeking and benefiting from market disruptions. The Tisch family purchased tankers at $5M each in early 1982 when the scrap value was near $5M. Soon, the same tankers were trading at $50M. Likewise, the head of a major trading firm generated the seed capital for his firm by visiting the various betting venues, assessing odds, and placing bets based on statistics rather than emotions, thereby locking in dependable gains.
Sophisticated investors anticipate real value and reactions of fellow investors. In the words of successful investor/ economist John Maynard Keynes, it is of little importance which is the prettiest young lady in a beauty contest, but rather which one the judges view is the prettiest. Below is a short description of the shifts.
Figure I: Shifts Description

On the positive side, our view is that the 18 months of disruption might be ending and that inflation and interest rates will moderate. With it, the bulk of investors will revert to decisions being driven by more return assessments rather than risk avoidance. An early indication of this is the narrowing of spreads on the tranche side versus the asset side. Below is a summary of all domestic CLOs with the growth in asset yields exceeding that of tranche yields. Reach out to marketing@egan-jones.com if you would like to receive our monthly summary report.
Figure II: Weighted Average Asset Coupon vs Tranche Coupon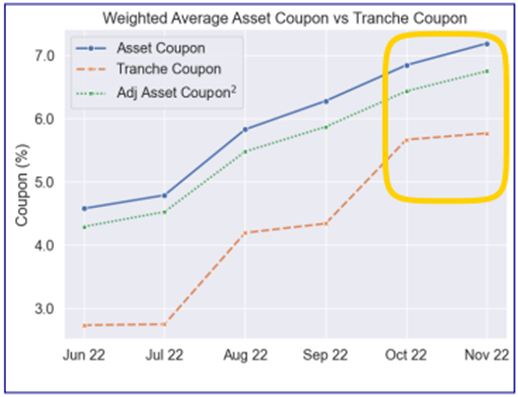 Link to Egan-Jones Ratings report: https://www.egan-jones.com/newsletters/clo-summary-reports/
Putin Poker
We closely follow development in Ukraine because of the impact on global markets. Not only are massive amounts of money being expended, but if the war ends, some of the major problems facing the markets will be addressed: energy will flow in Europe thereby further moderating energy prices, both Ukraine and Russia will resume their roles as massive grain, energy, and fertilizer exporters, normal trade will resume, inflation will ease, and interest rates will normalize. A retaking of Crimea via the cutting of supply lines would likely alter the perception of Putin. Furthermore, Russia is depleting its arms stockpile, which is likely to raise concerns that Russia itself becomes vulnerable to attack, although such an outcome to be unlikely in the short-run. A more likely event is that if Ukraine drives Russia out of Crimea, the reputed entreaties to Biden regarding war negotiations are likely to become more frequent, and the war's ending might become more viable.
China Chaos
There is little doubt that XI Jinping has made significant policy mistakes recent particularly regarding the lockdowns and the alienation of its major trading partner, the U.S. Many have applauded the ingenuity of the protestors with the lack of any message on their protest banners, thereby sidestepping the normal prohibitions against protests (how can one be arrested when there is no specific protest). However, for those who hope that the actions might result in a change in government, we would provide a note of caution: per Machiavelli, regime changes are difficult particularly in those cases where the government has tight controls over the population. We expect thousands of arrests and continued easing of restrictions.
Despite our views on the difficulty of regime changes, one item which should remain front and center is the possible vulnerability of credit quality of the country. Lockdowns, reshoring of supply (Apple is the latest to announce a shift away from China ), real estate over-building and a rise in global interest rates have chipped away at credit quality. As mentioned in a prior installment, if GDP has been overstated over the past several years, the level of reported and guaranteed debt might become burdensome.
Slowdown
Conditions continue to deteriorate across the world's factories and ports even ahead of the peak holiday season, Bloomberg's Trade Tracker shows. All four sentiment gauges were below average as shipments decline, manufacturing activity declines and companies brace for worse to come. The gloomy outlook has been exacerbated by everything from higher energy bills squeezing customers in Europe, weaker currencies in Asia boosting raw material costs to strikes by truck drivers in South Korea.
________________________________
[1]  https://www.economist.com/business/2022/10/24/the-end-of-apples-affair-with-china? utm_medium=cpc.adword.pd&utm_source=google&ppccampaignID=17210591673&ppcadID=&utm_campaign=a.22brand_pmax&utm_content=conversion.direct-response.anonymous&gclid=Cj0KCQiAnNacBhDvARIsABnDa6-Z5W0Ew0XVBRrLkZ0_7bu7Se2mO6htRhepfNbCuFlZ94CZipa-MOQaArr7EALw_wcB&gclsrc=aw.ds
How we can help
Egan-Jones Ratings Company started providing ratings in 1995 for the purpose of issuing timely, accurate ratings. EJR is a Nationally Recognized Statistical Rating Organization (NRSRO) and is recognized by the National Association of Insurance Commissioners (NAIC) as a Credit Rating Provider. EJR is certified by the European Securities and Markets Authority (ESMA) and recognized as market leader in Private Placement ratings. EJR also provides independent credit rating research, Climate Change / ESG scores, and Proxy research and recommendations.
Prospective clients have often asked how we can help them and what areas we consider are particularly
strong. In response, below are the areas worth reviewing:
Private Placement Ratings – assisting investors access private markets via ratings on private placements.
Subscription Ratings – we have had a strong track record in providing early, accurate independent credit rating research.
Climate Change / ESG Scores – an assessment of entities' current and prospective scores.
Independent Proxy Research and Recommendation/Voting – assisting fiduciaries in fulfilling their voting and record-keeping obligations.
Egan-Jones rates a wide variety of private placements:
Aircraft Lease and Loans
Airline Lease Back
Asset-backed loans
Bank, BDCs
Credit Facility/ Warehouses
Corporates
Credit-Tenant Loans (CTLs)
Equipment Leases
Financial Institutions
Ground Leases
Insurance
Middle Market Lending
Project Finance
Real Estate, REITs
Specialty Finance
CRE Loans, Other
Funds:
Closed-end Funds
Credit Funds
CRE Funds
Direct Lending Funds
Feeder Funds
Infrastructure Funds
Liquidity Funds
Mezzanine Funds
Mixed Strategy Funds
Opportunistic Funds
Real Estate Funds
Structured Debt Funds
Click here to view sample Private Placement transactions.
This content is produced by individuals who are not part of the credit ratings team and do not have responsibilities for determining credit ratings or developing/approving methodologies, models or procedures that are used to determine credit ratings.  The views expressed herein might not parallel the views of the credit ratings team. The information in this report is based on current publicly available information that Egan-Jones Ratings Company ("EGAN-JONES") considers reliable, but we do not represent it is accurate or complete, and it should not be relied on as such. The information, opinions, estimates, and forecasts contained herein are as of the date hereof and are subject to change without prior notification. Any credit ratings issued by EGAN-JONES represent EGAN-JONES' current opinion of the credit risk of the instrument or entity rated.  Any such credit ratings do not address other factors or risks such as market volatility, market risk or liquidity risk.  Prospective clients should refer to EGAN-JONES' published statements as to the meaning of different credit ratings assigned by EGAN-JONES.  Credit ratings provided by EGAN-JONES are solely intended to be used by institutional investors.  EGAN-JONES does not assess or address the suitability of any investment for any client or any other person or the marketability of any security or instrument.  Any credit rating issued by EGAN-JONES is not, and should not be construed as, a recommendation to buy, sell or hold any security or instrument or undertake any investment strategy and EGAN-JONES does not act a fiduciary for any person.  EGAN-JONES may raise, lower, suspend, withdraw, or otherwise modify a credit rating at any time in its sole discretion. EGAN-JONES IS NOT LICENSED AS A NATIONALLY-RECOGNIZED STATISTICAL RATING ORGANIZATION ("NRSRO") IN RESPECT OF "ASSET-BACKED SECURITIES", "GOVERNMENT SECURITIES", "MUNICIPAL SECURITIES" OR SECURITIES ISSED BY A FOREIGN GOVERNMENT (ALL AS DEFINED IN THE FEDERAL SECURITIES LAWS AND, COLLECTIVELY, THE "EXCLUDED SECURITIES CATEGORIES") AND ANY RATING ISSUED BY EGAN-JONES IN RESPECT OF ANY SECURITIES FALLING WITHIN AN EXCLUDED SECURITIES CATEGORY IS NOT ISSUED BY EGAN-JONES IN ITS CAPACITY AS AN NRSRO.  EGAN-JONES is not responsible for the content or operation of third-party websites accessed through hypertext or other computer links, cannot guarantee the accuracy of any information provided on an external website and shall have no liability to any person or entity for the use of, or the accuracy, legality, or content of, such third-party websites. The views attributed to any third party, including any article accessed via computer links, do not necessarily reflect those of, and are not an official view or endorsement of, EGAN-JONES.  This publication may not be reproduced, retransmitted, or distributed in any form without the prior written consent of EGAN-JONES. © 2022, Egan-Jones Ratings Company. All rights reserved.