Emulating Mr. October (Sept 11, 2023)
Reggie Jackson, the superstar slugger for the New York Yankees earned the sobriquet "Mr. October" for his uncanny ability to score runs when the team was desperate. George Steinbrenner, the long-time owner of the Yankees, highly valued a player who could perform in a clutch situation. Likewise, the sophisticated institutional investor and risk manager should have a good handle on some of the major risks and likely outcomes. Below is our summary.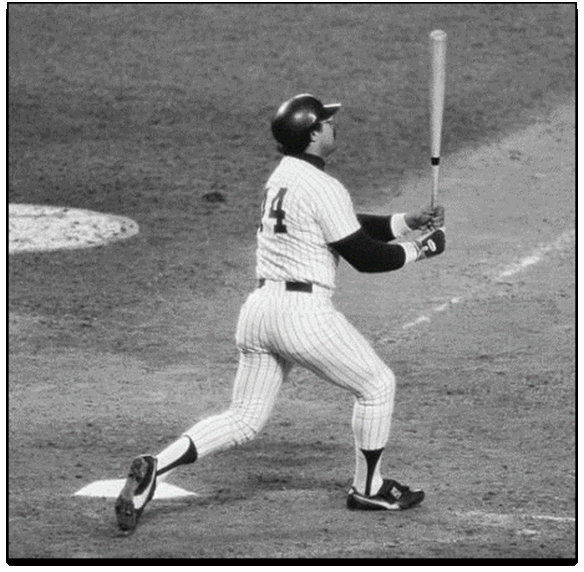 I. Inflation
The good news is that inflation appears to be peaking with the latest print near 4.0%, a far cry from the 8+% realized in mid-2023. The bad news is the devastation wrought by the higher rates. The amount of debt trading at distressed levels is up from approximately $30B in late 2021 to $138B on 2023 (see below).
Our View: the Fed is either done or nearly done increasing rates and most of Washington will soon be focused on the 2024 elections which typically translates into a more business-friendly environment.
Figure I: Inflation Measures, % Growth YoY 

Figure II: Five-Year Inflation Expectations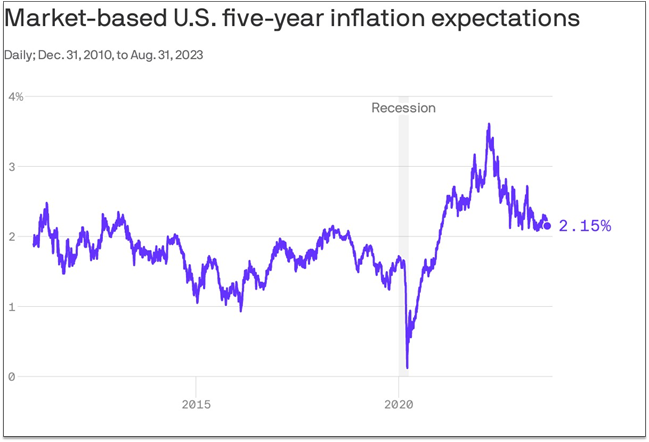 Figure III: U.S. High-Yield Debt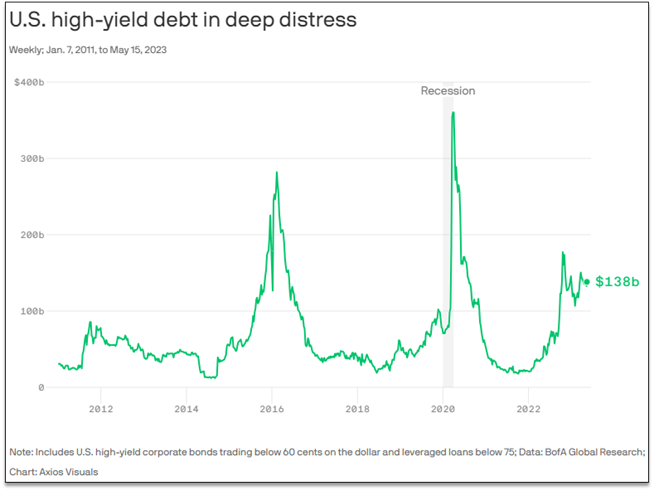 II. Elections
The key issue regarding the election is whether Mr. Trump, who appears likely to win the Republican nomination, will be able to win over enough moderates to win the general election. From our perspective, Mr. Trump appears to have a passionate base of support but continues to have difficulty attracting broader support. On the other hand, Mr. Biden continues to be hounded by the extra-curricular activities of his son and questions on his own age. Time will tell, but the race still appears to be Mr. Biden's to lose.
The below graph places Mr. Biden with a 36% chance and Mr. Trump near 29% likelihood of winning.
Figure IV: Chance of US Presidency 2024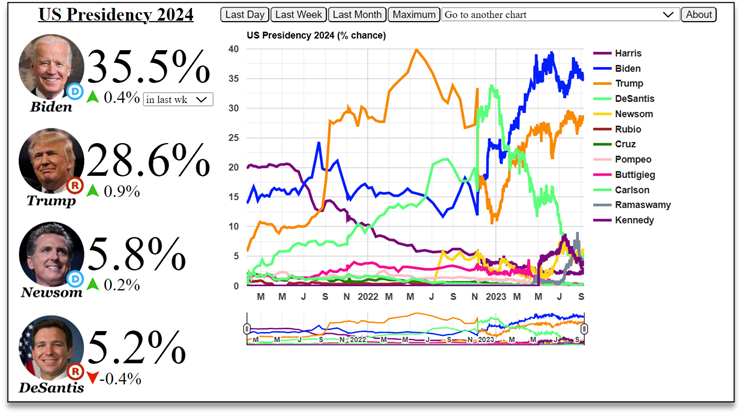 Our View: Mr. Trump will continue to generate headlines and Mr. Biden's team will focus on winning the election.
III. China
On the one hand, many consider China to be public enemy number one, with every policy geared to weakening the country (see the push for shifting production away from China, restricting chip sales, limiting student visas, restricting investments, etc.). On the other hand, is the ongoing fear that China's GDP is weakening, the yuan is weakening, and several sectors are under duress (see the developers and some financial institutions). The flawed assumption in allowing China into the World Trade Organization was that over time, its society would become more like a Western Democracy. In retrospect, it was naïve, and now many companies are rapidly trying to diversify their sourcing. Apple recently has faced pressure through a ban on Chinese government employees using their Apple devices while at work.
If conditions further deteriorate, President Xi might take more desperate measures to distract from domestic ills, which include the yuan's devaluation to 16-year lows.
Our View: China has achieved massive progress over the past couple of decades. Due to tight control over its population, the Chinese government isn't likely to face major domestic opposition. Watch for a redirection of investment away from uneconomic projects to more productive means.
IV. Ukraine
Ukraine has surprised many with its spirited defense and might be on the verge of a breakthrough with a penetration of several defense lines and the real possibilities of severing Russian supply lines. An indication of Ukraine's success is Mr. Putin's placing advanced Sarmat nuclear-capable missiles on "combat duty." If Ukraine achieves a breakthrough, the retaking of Crimea become significantly easier.
Our View: Most involved in the Ukraine War hoped for a rapid ending with perhaps the major obstacle being the pride of Putin and the joy of Ukraine (joy in the possibility of retaking Crimea and other areas lost). We hope that Mr. Putin continues to exercise restraint on the nuclear front and that over time that peace will prevail with the upshot being a resurgence in energy, food, and fertilizer supplies.
V. Europe
Europe's politics and economy remain complex. To the credit of the Biden administration, it has united both European and Asian/Australian allies against common enemies and revitalized NATO. The Ukraine war and the constraints on China have been vastly expensive, but the alternative would likely have been more costly. The coming winter is likely to be colder than the last, but Europe and its allies have had time to prepare. Perhaps a result of Russia's difficulties is a reduction in the probability that China attacks Taiwan.
Our View: Our hope is that conditions improve over time.
Sources & Footnotes
[1] https://electionbettingodds.com/President2024_week.html
[2] https://www.aljazeera.com/news/2023/9/2/russia-puts-advanced...
This content is produced by individuals who are not part of the credit ratings team and do not have responsibilities for determining credit ratings or developing/approving methodologies, models or procedures that are used to determine credit ratings. The views expressed in this article might not parallel the views of the credit ratings team. The information in this report is based on current publicly available information that Egan-Jones Ratings Company ("Egan-Jones") considers reliable, but we do not represent it is accurate or complete, and it should not be relied on as such. The information, opinions, estimates and forecasts contained herein are as of the date hereof and are subject to change without prior notification. Any credit ratings issued by Egan-Jones represent Egan-Jones Rating's current opinion of the credit risk of the instrument or entity rated. Any such credit ratings do not address other factors or risks such as market volatility, market risk or liquidity risk. Prospective clients should refer to Egan-Jones Rating's published statements as to the meaning of different credit ratings assigned by Egan-Jones. Credit ratings provided by Egan-Jones are solely intended to be used by institutional investors. Egan-Jones does not assess or address the suitability of any investment for any client or any other person or the marketability of any security or instrument. Any credit rating issued by Egan-Jones is not, and should not be construed as, a recommendation to buy, sell or hold any security or instrument or undertake any investment strategy and EJR does not act as a fiduciary for any person. Egan-Jones may raise, lower, suspend, withdraw or otherwise modify a credit rating at any time in its sole discretion. EGAN-JONES IS NOT LICENSED AS A NATIONALLY-RECOGNIZED STATISTICAL RATING ORGANIZATION ("NRSRO") IN RESPECT OF "ASSET-BACKED SECURITIES", "GOVERNMENT SECURITIES", "MUNICIPAL SECURITIES" OR SECURITIES ISSED BY A FOREIGN GOVERNMENT (ALL AS DEFINED IN THE FEDERAL SECURITIES LAWS AND, COLLECTIVELY, THE "EXCLUDED SECURITIES CATEGORIES") AND ANY RATING ISSUED BY EGAN-JONES IN RESPECT OF ANY SECURITIES FALLING WITHIN AN EXCLUDED SECURITIES CATEGORY IS NOT ISSUED BY EGAN-JONES IN ITS CAPACITY AS AN NRSRO. Egan-Jones is not responsible for the content or operation of third-party websites accessed through hypertext or other computer links, cannot guarantee the accuracy of any information provided on an external website and shall have no liability to any person or entity for the use of, or the accuracy, legality or content of, such third party websites. The views attributed to any third party, including any article accessed via computer links, do not necessarily reflect those of, and are not an official view or endorsement of, Egan-Jones. This publication may not be reproduced, retransmitted or distributed in any form without the prior written consent of Egan-Jones. © 2023, Egan-Jones Ratings Company. All rights reserved.